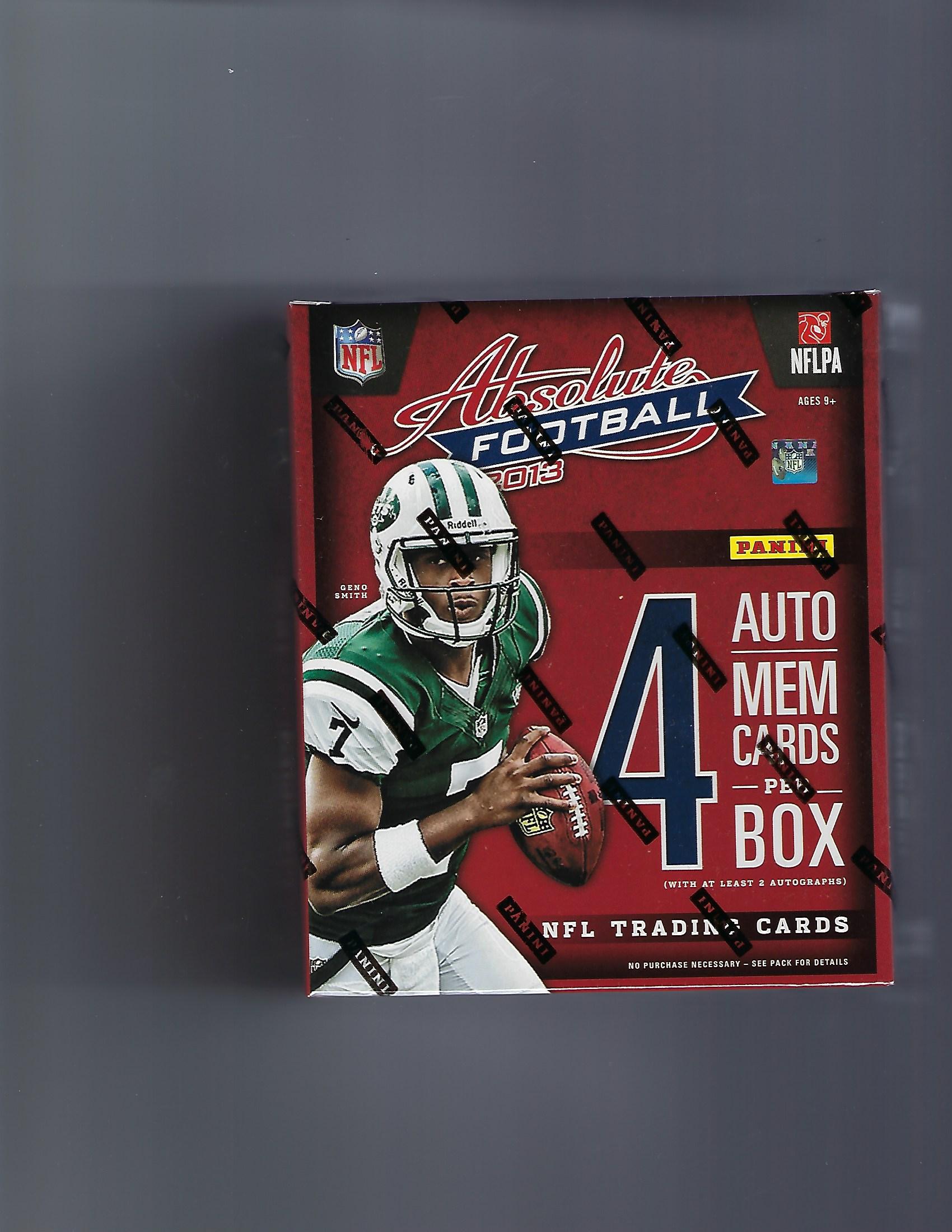 2013 PANINI ABSOLUTE FOOTBALL HOBBY SEALED BOX
2013 PANINI ABSOLUTE FOOTBALL HOBBY SEALED BOX
4 PACKS PER BOX, 5 CARDS PER PACK
Each Box contains Two Autograph Cards, Two Parallels, Two Rookies, Four Hogg Heaven, and Two Memorabilia Cards!
Find Rookie Premiere NFL Die-Cut Rookie Cards, highlighted by Geno Smith and E.J. Manuel, numbered to 299 or less with limited parallels numbered as low as 1!
One Hogg Heaven Card Per Hobby Pack! Featuring current stars and 2013 Rookies! Search for the limited Boss Hogg versions numbered to 99 and Hogg Wild versions numbered to 10!
New Leather & Lace Cards featuring 40 RPS Rookies with laces or leather swatches from either the shoe or football.
Look for the return of Absolute Patches! 40 current stars to collect, all numbered to 25 or less!
Tools of the Trade returns with Rookies, current, and retired players. Featuring jerseys, shoes, helmets, receiving gloves, and facemasks.

PRODUCT BREAKDOWN:
COMMON CARD: ABSOLUTE RETURNS WITH STUNNING PHOTOGRAPHY, FEATURING RARE COLOR PARALELLS OF THE LEAGUE'S HOTTEST STARS & VETERANS.
ROOKIE PREMIERE MATERIALS NFL SIGNATURES: THE POPULAR NFL DIE-CUT ROOKIES RETURNS WITH ROOKIES FROM THE 2013 ROOKIE PREMIERE HIGHLIGHTED BY PRIME, JUMBO PRIME, AFC/NFC PRIME, JERSEY NUMBERS PRIME, NFL SHIELD, NIKE SWOOSH & LAUNDRY TAG VERSIONS. NUMBERED TO 299 OR LESS.
LEATHER & LACE: LOOK FOR LEATHER & LACE CARDS FEATURING EITHER SHOELACES & A SHOE SWATCH OR FOOTBALL LACES AND A SWATCH OF FOOTBALL FROM THE 2013 ROOKIE CLASS. EACH CARD NUMBERED TO 49 OR LESS.
HOGG HEAVEN: LOOK FOR ONE HOGG HEAVEN CARD PER PACK, FEATURING CURRENT STARS AND 2013 ROOKIES. SEARCH FOR THE LIMITED BOSS HOGG VERSIONS NUMBERED TO 99 AND HOGG WILD VERSIONS NUMBERED TO 10.
PLATES & PATCHES: LOOK FOR PLATES & PATCHES CARDS, FEATURING NAMEPLATES & PATCHES ALONG WITH SIGNATURES FROM CURRENT AND RETIRED NFL STARS, NUMBERED TO 49 OR LESS.
TOOLS OF THE TRADE SIGNATURES: FIND TOOLS OF THE TRADE SIGNATURES, FEATURING SWATCHES OF SHOES, HELMETS, RECEIVING GLOVES AND/OR FACEMASKS OF CURRENT OR RETIRED STARS, NUMBERED TO 99 OR LESS.