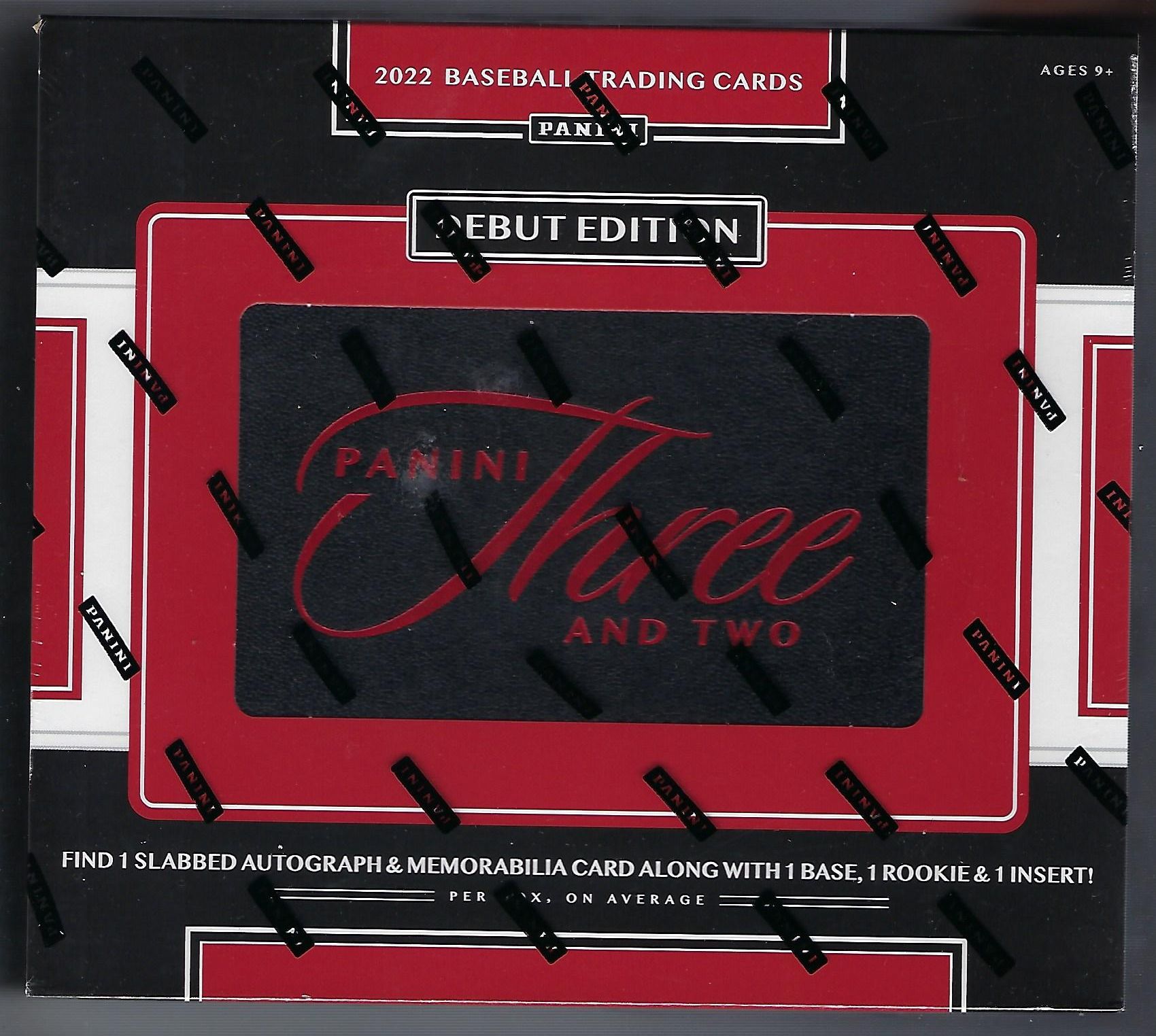 2022 Panini Three and Two Baseball Hobby Box
2022 Panini Three and Two Baseball Hobby Box
Configuration:
5 cards per pack.
1 pack per box.
Look for 1 slabbed autograph, 1 slabbed memorabilia card, 1 base card, 1 rookie/prospect card, and 1 insert card per box on average.
New this year to baseball, Three and Two is a Hobby-only release that aims to deliver numerous autographs and memorabilia from today's top stars and prospects!
Find future superstars Wander Franco and Oneil Cruz in Rookie Jersey Autographs and Spencer Torkelson in Prospect Jersey Autographs! Look for plenty of premium memorabilia swatches in mem-only sets like Jumbo Swatches and Full Count! Hunt for big name players like Fernando Tatis Jr and Shohei Ohtani in the ultra-rare insert Swag. Find one slabbed autograph and one slabbed memorabilia card in each box!
Whether it's a face of the franchise like Ohtani, a star in the making like Cruz or a couple of feared prospects who have next like Torkelson and Greene, Three and Two aims to deliver autograph content from the who's who of the baseball world. Hunt for big-named players like Fernando Tatis Jr and Shohei Ohtani in the ultra-rare insert Swag. Legendary Signatures is a 20-card set that features autographs from some of the best players to step foot on the field and some, like Scherzer, who are well on their way to cementing that status. Look for 1 slabbed memorabilia card per box from such stars are Yordan Alvarez, Ronald Acuna Jr and more!
Prospects are the lifeblood of baseball and the 15 names in Prospect Jersey Autographs give proof that the game's future has never looked brighter! Each box will contain one base card and one rookie or prospect base card. First-ballot Hall of Famers don't grow on trees, but the 15 players in Future First Ballots make it seem like Cooperstown was destined for them from the start.